teGalleryMaker™
E-Commerce, website generation and website maintenance application for art galleries, artists, art and craft stores and related businesses.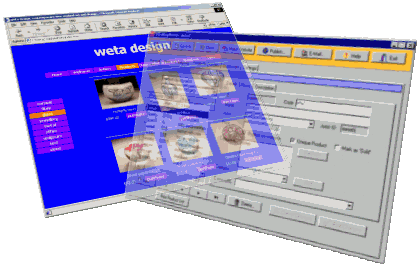 Introduction:
teGalleryMaker was developed for small to medium art galleries and art and craft stores and related businesses who want to have a cost effective way to create a website to sell their products online.
Art and craft sellers have a fast changing inventory of products and must update their website frequently.
teGalleryMaker is an application that runs on the vendors office PC. It maintains a database of all products at offer at the vendors website. It automatically generates a comprehensive website with full e-commerce capabilities such as shopping list, order form and order confirmation forms. It also handles all incoming online orders and the resulting e-mail communication with the customer with its orders and customers database.
You do not need to know anything about website design or HTML programming. All you need is to enter the information about your products and import photos or images of your products, select layout options and teGalleryMaker will do the rest for you. You can style your website with background colors and images and select fonts and colors for buttons and text elements.
teGalleryMaker will even optimize the size and resolution of images that you import to make them fast loading on your website.
teGalleryMaker generates your website on your local PC first. You can inspect and try all options within the website before you decide to publish the site. teGalleryMaker has a build in FTP client that automates uploading of your website to your internet service provider. If you make changes to your website only the changed items will be uploaded or removed respectively.
Select from the options in the sidebar to the left to learn more about specific topics or browse the Online Help Files that ship with teGalleryMaker.
You obtain a copy of teGalleryMaker by following the Download link on the right. The full application will be downloaded. It installs itself as a demo application with certain features switched off. If you want to use the application commercially you must register and purchase your license and registration key. This will turn your demo application into the full version of the product.
You can browse the help files online for a detailed tour of teGalleryMaker and its features.
© 2000-2001 TE-Software Ltd