Introducing: teGalleryMakerô
E-Commerce, website generation and website maintenance application for art galleries, artists, art and craft stores and related businesses.
Free download of the application!
(demo version until registered)
Version 1.5.22 now available!
Updated 22-june-2005
New registration process using the ShareIt secure online registration service.
New Price!
teGalleryMaker is
NZ$ 495 (+12.5% GST when sold in New Zealand)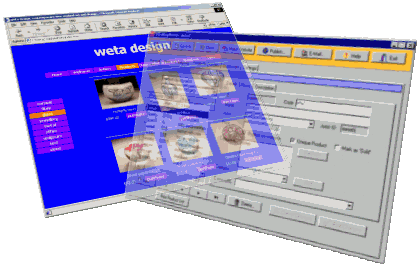 Do you want to have a comprehensive easy to maintain website with full secure e-commerce capabilities and online order processing for your business?
Do you already have a website but it is static and you can not easily bring new products and information onto the internet?
Do you lack secure online ordering capabilities on your current website?
Do you like to maintain your own website right from your office PC and watch orders coming in from all over the world?
Is your budget limited and you would like to use a tested and ready made solution rather than paying top dollars for custom website development?
Would you like all this to run from any regular web space at your local Internet Service Provider without the need to install specific software or services at their end?
If you answered yes to any of these questions then you should definitely take a close look at teGalleryMakerô.